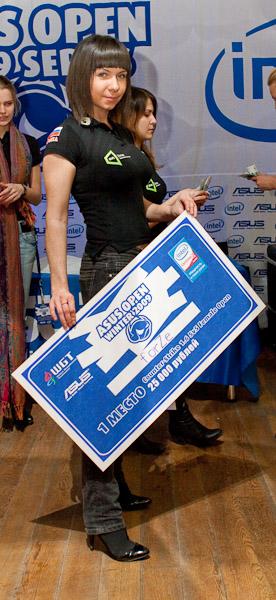 After the winter tournament of Asus Cup had finished, we began to interview the famous people and its participants. One of such famous, interesting and, mainly, beautiful people became the participant of the Russian project forZe -

Lidiya "MarLa" Strakanova. We should remind that her team took the first place at Asus Winter 2009.
LumeNation: Hello! Please, introduce yourself, may be somebody doesn't know you, and tell something about yourself.
MarLa: Hello, everybody. My name is Lidiya Strakanova, my nickname in the game is MarLa. I play for the women team forZe. My general game experience is more than 7 years.
Retell your career of the professional gamer. Where did your experience begin and what is the situation now?
I began as many other people. I occasionally saw, how guys were playing in the computer club, and I decided to try to do the same. By the way, in the beginning everybody laughed at me. Probably, it served as a stimulus to learn how to play. Then I was called into the first Russian women team p[L]atinum, besides Venema and Manu came out of this team, so then I was tied with these affairs, there were different memberships of this team and now I have been playing for forZe for almost two years.
Do you think, that passion for computer games is not appropriate for women? That is the small part of the women population plays computer games and prefers something else, chooses other priorities.
It's the truth. It is normal, that mainly lads play computer games, it's really game for men because of weapons, explosions =) But on the other hand, girls don't have large competition, and it's easier for us to win and attract sponsors, for example.
Tell me, what are you doing apart from Counter-Strike? Do you study, or, probably, work?
I began to work long time ago, and rather successfully, I work as the Business Development Manager. To combine Сounter Strike with work is not easy, but I am sure of my future, besides, it's interesting to work.