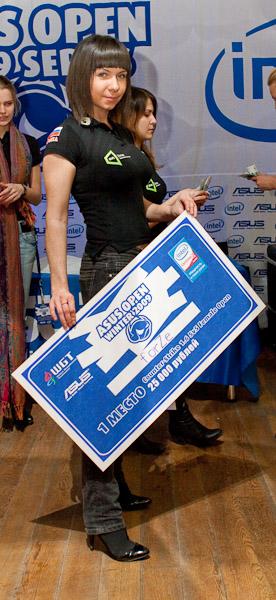 After the winter tournament of Asus Cup had finished, we began to interview the famous people and its participants. One of such famous, interesting and, mainly, beautiful people became the participant of the Russian project forZe -

Lidiya "MarLa" Strakanova. We should remind that her team took the first place at Asus Winter 2009.
LumeNation: Hello! Please, introduce yourself, may be somebody doesn't know you, and tell something about yourself.
MarLa: Hello, everybody. My name is Lidiya Strakanova, my nickname in the game is MarLa. I play for the women team forZe. My general game experience is more than 7 years.
Retell your career of the professional gamer. Where did your experience begin and what is the situation now?
I began as many other people. I occasionally saw, how guys were playing in the computer club, and I decided to try to do the same. By the way, in the beginning everybody laughed at me. Probably, it served as a stimulus to learn how to play. Then I was called into the first Russian women team p[L]atinum, besides Venema and Manu came out of this team, so then I was tied with these affairs, there were different memberships of this team and now I have been playing for forZe for almost two years.
Do you think, that passion for computer games is not appropriate for women? That is the small part of the women population plays computer games and prefers something else, chooses other priorities.
It's the truth. It is normal, that mainly lads play computer games, it's really game for men because of weapons, explosions =) But on the other hand, girls don't have large competition, and it's easier for us to win and attract sponsors, for example.
Tell me, what are you doing apart from Counter-Strike? Do you study, or, probably, work?
I began to work long time ago, and rather successfully, I work as the Business Development Manager. To combine Сounter Strike with work is not easy, but I am sure of my future, besides, it's interesting to work.
How does play influence on your life? Name some advantages and disadvantages.
Due to Сounter Strike I got acquainted with different people, I experienced strong emotions, the feeling of winning, adrenalin and the wish to be the best of all. I was at the international tournaments. Generally, I experienced much, which can not be found in the ordinary life. On the other side CS took much time, because of it I was almost excluded from the institute. But as a whole this sport has more advantages than disadvantages.
Tell more, how did it happen, that you were you almost excluded from the institute?
As I said above, because of that fact that I trained a lot, especially when I was the fifth-year student of the institute, I was almost excluded. In order to get the certificate of degree, I had to write degree work myself within 5 days and 6 nights. It was very difficult, but I coped with all problems without the help of my friends. But now I have degree with distinction, and there is something to recollect. Yes, I defended the graduation paper for the excellent mark.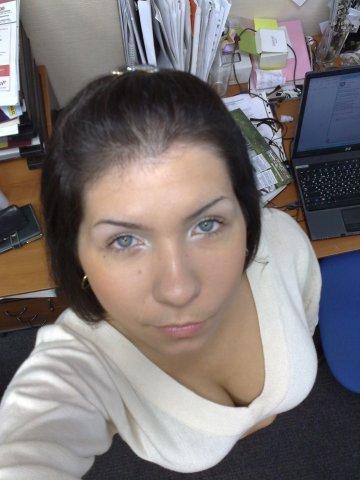 Tell me, for which purpose do you play Counter-Strike? The amount of women tournaments leaves much to be desired. And prize money looks rather funny. Playing computer games doesn't bring large income.
I like this game and I like my team. I can say that I can hardly play in other membership. There are not too many tournaments, but they give very strong and pleasant emotions. I think about money for Сounter Strike in the last turn, though it is pleasant to get salary, but, may be, not high salary, but for the job you really like. I also play for the sake of participation in international championships, exactly there emotions are stronger, by the way, it is not fear and nerves, it is the feeling of pride for your country and it is the wish to win.
Let's go directly to the team forZe. Describe its structure. Where do you train, how much time do you pay to training? Which aspects do your trainings consist of and with which teams during trainings do you play?
The forZe team was formed in 2005. Then the sequence of wins followed, including winning at qualifying rounds of the World Championship ESWC in Russia. forZe took the top position in the world, and we became the strongest fifth teams of the world. Since 2006 to 2008 we had won all women championships in Russia, and only at the tournament ASUS we were beaten for the first time by the Russian women team in the autumn of 2008. This defeat gave the additional incentive to increase the level of game, and we won, as you know, the following ASUS.

We train about 5 times a week. Partially these trainings are held online, but there are always LAN trainings with examination of tactics. We try to play with women teams (not from Russia) and with strong Russian men's teams.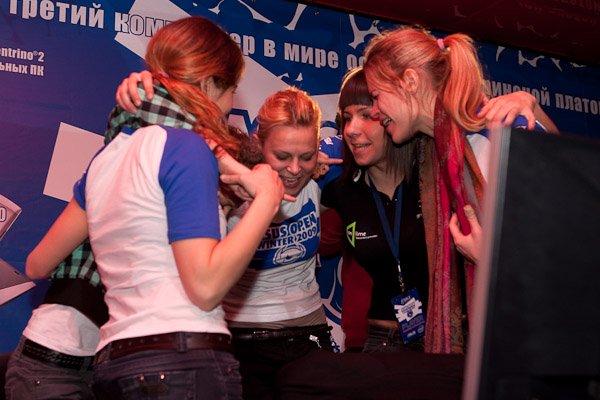 What about the organization, manager staff in the forZe team? And can you afford yourself to go abroad to the international championships, for example, such as Female CS open Tournament 2009 that will be held in the Netherlands on 4-5. April and its prize money will amount to 2000€. By the way, mYm.female has confirmed its participation in this tournament.
forZe has female and male Сounter Strike 1.6 squads, male CS: Sourse squad, FIFA and Starcraft staff. The manager of the women team is Nikita Bokarev. He organizes important moments with sponsors. He helps to decide questions and solve problems inside the team and he also helps us at trainings, and, of course, at tournaments. As a whole, Nikita is the manager of the eSport club forZe. It is the officically registered organization and we even have net salary.

As for trips, sponsors pay for them. Generally, our eSports club is the only club in Russia at the moment that has sponsorship support. Our sponsor-general is the "Onlime" company, profitable and reliable provider that tends to correspond to the modern level of technology development. www.onlime.ru. Our training base is computer club «4Game», that apart from excellent conditions for trainings became the second house for us, and, of course, our general informational sponsor is the First gaming channel, that is the first acting Russian TV-channel in the sphere of computer and videogames.

As for the championship in the Netherlands, I can say, that now we are thinking over the suitability of this trip. If we decide that we are ready and we'll able to play with dignity, we will compulsorily go.
How can you comment the fact that women Counter Strike in Russia doesn't develop at all? Why there are so few women teams and tournaments for them?
I can't say that women eSports doesn't develop at all. Yes, everything happens much slowly, than in the men eSports, but progress and development are obvious. This year there are much more championships in Russia, as well as in the whole world. And the level of teams is growing.
One of innumerous tournaments that began to support women discipline in Counter-Strike is Asus Cup. As I know, you took the second place at the last tournament; you were beaten by the girls from

shara.bros. Do you think, that shara.bros is the principal competitor for you?
Not principal. I don't think so. Last tournament we were beaten, basically, by ourselves. After Arbalet Cup we really weakened, we walked and had a rest. We thought that winning at ASUS will be very easy for us. At the last game we went with thoughts that we will go home and have a rest, because we are very tired of constant waiting. And girls from shara after Arbalet on the contrary worked upon their mistakes and went to the game with serious mood to beat us. They managed to do it. They really did well. Our defeat brought new intrigue into the women Сounter Strike, that hadn't been for a long period of time and it attracted additional attention. And that's why I'm glad about this defeat.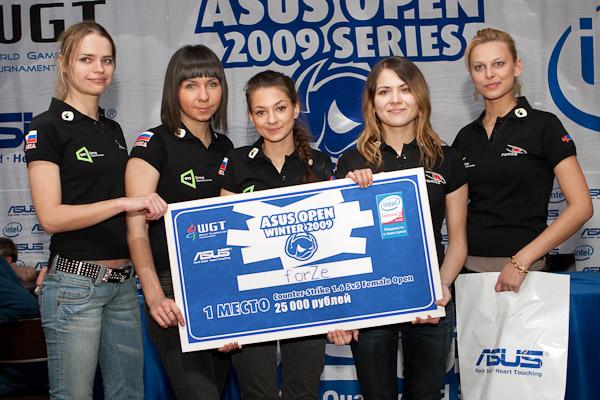 This time you again faced the battle for the first place. Tell me, how did you prepare for this tournament?
This time we came up to the preparation with the whole responsibility. We understood that we should show our professionalism and the level of game. We couldn't allow ourselves to relax and be beaten. During the last week all trainings were on LAN with strong men teams. I can't say that we played some special tactics, we played more, making a start from logic and game situations. This was, in principle, enough for the winning.
What's your opinion about your performance in the Final and why did you turn out to be stronger this time?
I can't say that we were nervous much, although, of course, when we gave 8 rounds running on the last card instead of taking one round, we strained a little.
As I have said above, we prepared and our moral mood was different and that's why we won.
What can you advise girls who only begin to play Counter Strike? Generally, do you advise them to begin and to continue, if it is not worthy cause and it's only the waste of time for them?
Here everybody makes her choice. I think, that one shouldn't go the limits and one should leave time for oneself and private life and look after oneself and more often smile. We are girls after all. But generally Сounter Strike gave me a lot, that wouldn't if I hadn't played it. I don't regret anything.
We had told about spare time, can you tell me, how do you spend it?
Now I try to spend all my spare time with my beloved. He understands my passion for eSport, supports me. I thank him for this. So, and as many girls, I go to the clubs, shops, solarium and etc.
There is the opinion than the closed hangout has been formed in the Russian eSports, where only selected people are admitted and where professional eSportsmen prefer to have a rest with similar ones that also like to play computer games. What can you say about it? And are you the member of this hangout?
I can't say that this hangout is only for selected people. It is just more pleasant and comfortable to communicate with those people who understand you. Besides we have known each other for a long period of time.

It is always easy to communicate with us if we are looked at as ordinary people (girls and guys), if we are not asked questions like "what servers do you sit at".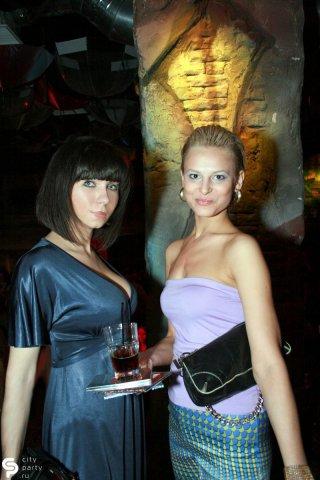 What does forZe.Female 2009 expect? What tournaments do you plan to visit, where, do you think, to perform?
As I know, there will be one more tournament in Russia on April. As I have said, we are likely to go to the Netherlands. And, of course, the most important event of the year is ESWC.
Thank you, that you kindly have agreed to answer questions, I sincerely wish you and your team good luck in the future, and, may be, you want to say something else in the end?
Traditionally, I want to thank all people, who support us. It is really important for us. I want to wish victories and patience all girls that play computer games. Being a girl, who plays Сounter Strike is not so easy. And thank you all players for your contribution to this kind of sport. I hope that there will be more women teams every year. And I want to thank my teammates for their existence. I LOVE you!