News about game:








All news

We are glad to inform you that during the second half of September this year in Moscow will be Russian qualifier of KODE5. Regional qualifiers will be held in Moscow, St. Petersburg, Nizhny Novgorod, Bryansk, and Omsk. The grandfinal one of the major tournaments year - KODE5, will be held in Peru. There will get the best 16 teams from around the world. For the quota from Russia wrestle 6 best teams on the basis of qualifying and two invited teams. Who will win the quota from Russia? MYM, forZe or someone else?
KODE5 Russia Regional Finals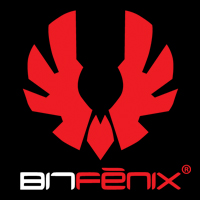 DATES: COMING SOON

VENUE: Playground.ru Internet Cafe

GAME: Counter-Strike 1.6

NOTES: 1st place advances to KODE5 Global Finals
With Russia's Top 16 teams determined, the KODE5 Russia Regional Finals will be held at the Playground.ru Internet Cafe. As the venue for many international gaming tournaments, PlayGround is one of Moscow's most renowned Internet cafes, drawing in hundreds of gamers from all over the country. This year, it will once again be the site for the KODE5 Russia Regional Finals.
Information about Russian qualifiers of KODE5:
Event: KODE5 Bruansk
Date: 29th of august

Venue: Internet cafe T-32

Game: Counter-Strike 1.6

Note: One team received a quota to the regional finals KODE5 Russia. Allowed to participate only Russian teams and players.
Event: KODE5 Nizhny Novgorod
Date: first part of september

Venue: Internet cafe IpClub

Game: Counter-Strike 1.6

Note: One team received a quota to the regional finals KODE5 Russia. Allowed to participate only Russian teams and players.
Event: KODE5 Novosibirsk
Date: 19th of september

Venue: Internet cafe Bomba

Game: Counter-Strike 1.6

Note: One team received a quota to the regional finals KODE5 Russia. Allowed to participate only Russian teams and players.
Event: KODE5 St. Petersburg
Date: 4th-5th of september

Venue: Internet cafe Terrakot

Game: Counter-Strike 1.6

Note: One team received a quota to the regional finals KODE5 Russia. Allowed to participate only Russian teams and players.
Event: KODE5 Moscow
Date: 18th-19th of september

Venue: Internet cafe PlayGround

Note: One team received a quota to the regional finals KODE5 Russia. Allowed to participate only Russian teams and players.
About KODE5
KODE5 masses gamers in 16 countries in a series of regional events to find the best gamers from around the world. The best then fly to an undisclosed location to square off against the world's gaming elite. With television crews from around the world broadcasting, international media in attendance, and mass crowds rioting for their favorites, the KODE5 Global Final will bring gaming to the center stage like no other gaming event. KODE5 will take competitive gaming to another level and gain the respect that gaming deserves. To join the revolution, go to the KODE5 website at www.kode5.com.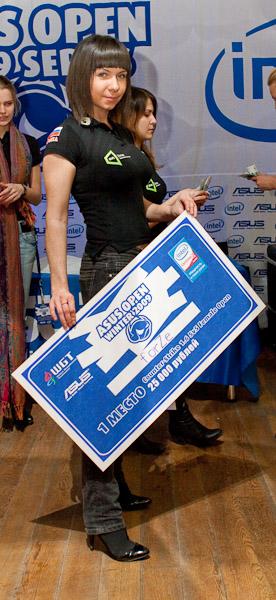 After the winter tournament of Asus Cup had finished, we began to interview the famous people and its participants. One of such famous, interesting and, mainly, beautiful people became the participant of the Russian project forZe -

Lidiya "MarLa" Strakanova. We should remind that her team took the first place at Asus Winter 2009.
LumeNation: Hello! Please, introduce yourself, may be somebody doesn't know you, and tell something about yourself.
MarLa: Hello, everybody. My name is Lidiya Strakanova, my nickname in the game is MarLa. I play for the women team forZe. My general game experience is more than 7 years.
Retell your career of the professional gamer. Where did your experience begin and what is the situation now?
I began as many other people. I occasionally saw, how guys were playing in the computer club, and I decided to try to do the same. By the way, in the beginning everybody laughed at me. Probably, it served as a stimulus to learn how to play. Then I was called into the first Russian women team p[L]atinum, besides Venema and Manu came out of this team, so then I was tied with these affairs, there were different memberships of this team and now I have been playing for forZe for almost two years.
Do you think, that passion for computer games is not appropriate for women? That is the small part of the women population plays computer games and prefers something else, chooses other priorities.
It's the truth. It is normal, that mainly lads play computer games, it's really game for men because of weapons, explosions =) But on the other hand, girls don't have large competition, and it's easier for us to win and attract sponsors, for example.
Tell me, what are you doing apart from Counter-Strike? Do you study, or, probably, work?
I began to work long time ago, and rather successfully, I work as the Business Development Manager. To combine Сounter Strike with work is not easy, but I am sure of my future, besides, it's interesting to work.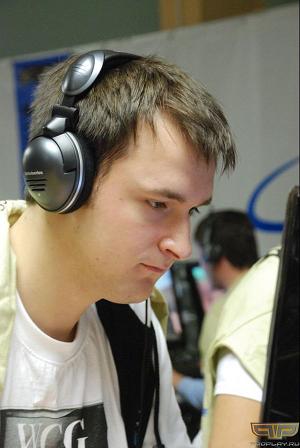 At last we bring to your attention the long-expected interview with the most famous Counter Strike player of the Russian team

EYEsports and the national team of Russia. As you have guessed, today the hero of our program is a cheerful and positive

Alexander "xek" Zubkov, who answered all important questions that have worried the local population for many months.
Tell me, for which team do you play and how long have you been playing for it?
Hello! Now I am playing for EYEsports within a year. Before I played also with the same people about 2 years ago, but under different names of teams (only one or two gamers were changed, and once I was changed).
At the end of December of the last year two players Xenitron and Dingo left EYEsports in Virtus.pro. What do you think about it?
So, they chose the team with the best conditions at that moment, including the fact, that we played with the last champions very badly; we didn't have motivation to train and to win. May be, every player made the same.
How successfully did Flatra и Edik enter the team after Vanya and Denis had left?
The situation was a little opposite. Flatra and edik were first to contact with eyesports managers and began to form the team. After ex they took me and redman. Everybody entered the team well, as we have known, and played with each other for a long time.

Breaking news! Russian Begrip Gaming Counter-Strike team falling apart. Players of the team decided they are not anymore interested in cooperation with their owner, Maksim "Nirvana" Zalilov. Players are not satisfied by Zalilov's work and they also suspect that they are not getting all the money they should get.
Zalilov told us that he wont allow team to play in NPCL league, and he will try to ban them from Russian qualifiers of WCG, KODE5 and ESWC.Proplay.ru made a call to Russian WSG Qualifier organizers, and they told us, that they fully support Zalilov's decision.
Stay tuned for more information about this growing conflict.
Begrip Lineup:

Xenitron,

Xek,

Redman,

Flatra,

eX

I will speak in a roundabout way. By the time I've been thinking over what to write for my diary on Proplay, I've come to a conclusion that I should speak only about the third unfortunate day, the play-off day, where I was anyhow involved at once in the two most sensational scandals of the WCG. I mean games Norway - Korea and Russia - USA.
I'll start with the first match and tell you what had happened in reality. Glad Norwegians barge into the gaming zone a bit later than Koreans and I, as the judge assigned to team Norway, had to raise my voice, but REAL took out his guys from a crowd of chatting Scandinavians. Mates sat down at once, without any problems in about five minutes set all the options and stared at me with questioned faces. "Oh God! What a pleasure to work with professionals. They do everything in silence, quickly and without questions." - thought I, remembering my Greeks and Macedonians in the first and second days of the competition. Although it's a sin to complain of team Macedonia - the guys played calmly and without any remarks, that was really surprising. Attentively examined their devices for own satisfaction and started the CS, I began looking for the enemy. It turned out a team of five guys who looked like monkeys from the cartoon. By the way, there was monkey-mother in the cartoon and we could see her here too - the team-leader, who diligently defended the interests of the team from Samsung's and Boxer's motherland. It was a great pleasure that the other Russian-speaking judge from Latvia - Banshi was looking after the Asians. There were no doubts that we will find the understanding. The game began.
This week russian counter-strike community has seen a new movie from famous russian movie-project - gameMovies. This movie about very talanted russian gamer - Alexey "OverDrive" Birukov. Official statement from gameMovies:
"This is official movie of OverDrive, executed in HDTV-quality by the project gameMovies. As soundtracks were used songs FPSband.ru, which play itself OverDrive! Frags and soundtraks have been picked up by Alexey. We have tried to lay the greatest emphasis on synchronization and special effects. "
A little bit about OverDrive: he played in such teams as a

Mighty44 (hooch, HEL1, kyky, mo3ru, OverDrive),

forZe,

Aggressive Attack. He has a lot of achievements and awards. Good frags in a combination with a good music and excellent synchronization make a remendous effect. Pleasant viewing!
The OverDrive Movie [ .avi] @ 9:16 356 mb

Source: InGame.ru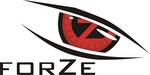 Official statement from forZe:
We have very strong players in

forZe line-up. Each of them is a person with their own priorities and the purposes. Also, there is a great age difference bettween players in the team. The only way to avoid conflicts in this situation was the opportunity to find the compromise. Unfortunately, we didn't manage to find this compromise.
After dissapointing perfomance on the ESWC Russian Quals, we made a decision to visit a European Tournament GameGune 2007. This perfomance should have been a check for a team before WCG. During the making decision of replacement major factors were not the game mistakes, but an irreconcilable disagreements inside of a team.
We have made a decision to replace two players. Viktor "Mosk" Moskvin and Vladimir "Tarlund" Perevolotskiy has left the team.
Ivan "F_1N" Kochugod and Alexey "Nova" Novikov has joined the team. Together we shall try not to make old mistakes and use all our knowledge and experience to achieve our purposes in future. New line-up has already started to practice on their traning base, which is located at the 4Game Game Center.

forZe now has the following line-up:
Boris "Snoop" Podvalshikov
Kirill "Pohmel" Bobrik
Andrey "XomA" Mironenko
Ivan "F_1N" Kochugov
Alexey "Nova" Novikov
Nikita "smb" Bokarev - management
ProPlay.ru wishes a best of luck to the new line-up!
---
Страницы: 1 | 2 | 3 | 4 | 5 | 6 | 7 | 8 | 9 | 10